Eligibility Requirements
Pathway 1 – Association for Behavior Analysis International (ABAI) Accredited Program:
Pathway 2 – Coursework:
Examination:
All applicants must take and pass BCaBA examination, regardless of the eligibility pathway used to qualify. Authorization to take the examination is only provided to applicants who have submitted a complete certification application to the BACB, including all documentation necessary to demonstrate that they have met all of the criteria for one of the eligibility pathways above.
---
Coursework Requirements For pathway 2
Updates to the coursework requirements were announced in the January 2017 Newsletter.
Coursework may come from an Association for Behavior Analysis International (ABAI) Verified Course Sequence (VCS), although other coursework may also be acceptable.
ABAI VCS Coursework: When applicants present a transcript with a passing grade, students do not need to submit additional coursework documentation with their applications for examination.
ABAI Verified Course Sequence Directory
Pass Rates for Verified Course Sequences
Other Coursework: Coursework that is not from an ABAI VCS must be reviewed in order to determine whether it covered the required content for the minimum amount of instructional hours. The BACB will only make determinations about the acceptability of non-verified coursework as either (a) part of a formal application for examination or (b) an independent application for coursework evaluation.
A combination of VCS and other coursework may also be acceptable. Regardless of whether coursework is obtained from a VCS, every applicant must demonstrate that his or her coursework covered all of the required content for the minimum number of hours per category.
Coursework Area
BACB Compliance Code and Disciplinary Systems; Professionalism
Note: 15 hours must be taught in one or more freestanding courses.
30 hrs
Philosophical Underpinnings; Concepts & Principles
45 hrs
Measurement, Data Display, and Interpretation; Experimental Design

30 hrs
Behavior Assessment
45 hrs
Behavior-Change Procedures; Selecting and Implementing Interventions
60 hrs
Personnel Supervision and Management
15 hrs
Total
225 hrs
BCBA/BCaBA Task List (5th Ed.)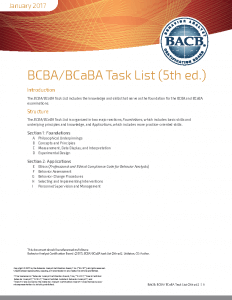 Beginning on January 1, 2022 the BCaBA examination will be based on the BCBA/BCaBA Task List (5th ed.).
BCaBA Fieldwork Requirements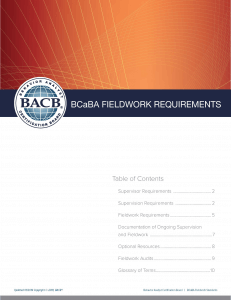 This document outlines the fieldwork requirements for the BCaBA certification. The October 2017 Newsletter includes summary information about these changes.
Unique Documentation System
Because fieldwork varies across settings and practice areas, the BACB is granting supervisors and trainees the flexibility to develop their own system for documenting ongoing supervision and fieldwork in a way that demonstrates adherence to all the requirements. More details on information that should be documented in this system is available in the BCaBA Fieldwork Requirements document.


Monthly and Final Fieldwork Verification Forms
Note: The following forms are PDF documents that should be saved to your desktop and opened in Adobe Acrobat rather than your web browser. 
Optional Resources
Maintenance Requirements
BCaBA certificants must complete the following to maintain their certification:
Continuing Education
Initial BCaBA certification indicates that one has met entry-level standards for practice as a behavior analyst. The purpose of the BACB's continuing education (CE) requirement is to ensure that BCaBA certificants continue to engage in activities that will expand their behavior-analytic skills, beyond the requirements for initial certification, and help them remain current on developments in the profession.
Requirement: 20 CEUs (including 4 in ethics; 3 in supervision for supervisors)
Types: CEUs may be earned through three types of activities, as illustrated in the table below. There are no restrictions or limitations on how many CEUs may be earned through each activity type.
CEU Type
Continuing Education By:
Documentation
CEU Values
Learning
Attending events offered by Authorized Continuing Education (ACE) providers.
List of ACE Providers.
Certificate from ACE events
25 minutes of learning = ½ CEU*
Completing behavior-analytic graduate courses, for BCBAs, or behavior-analytic undergraduate or graduate courses, for BCaBAs, at a qualifying institution (coursework used to obtain certification will not qualify).
Syllabi and transcripts from university courses
Participating in certain BACB certification activities.
No documentation is needed for BACB events (these are issued directly into BACB accounts)
Teaching
Teaching ACE events.
Documentation from the ACE provider demonstrating that the certificant taught an ACE event
25 minutes of instruction = ½ CEU*
Teaching university courses in behavior analysis at a qualifying institution.
Letter from a department chair for teaching a university course
Scholarship
Publishing an article on behavior analysis in a peer-reviewed journal.
A PDF of the final published article
1 publication = 8 CEUs 1 review = 1 CEU
Writing a review or decision letter for an article on behavior analysis submitted to a peer-reviewed journal.
Letter from the journal editor or associate editor
CEU Content
Continuing education may address any aspect of behavior analysis: practice, science, methodology, theory, or the profession. In addition, 4 CEUs in ethics and 3 hours in supervision (for supervisors) are required during each recertification cycle.
Ethics CEUs
Acceptable ethics content must cover ethical issues in behavior-analytic practice or research. Ethics content should relate to the BACB's ethics requirements. Sample ethics content include the (in)appropriateness of implementing non-behavioral therapies, strategies for avoiding/managing dual relationships, creating a culture of ethics in an organization, ethical implications of media and technology, among many others.
Supervision CEUs
Certificants who wish to supervise trainees who are pursuing BCBA or BCaBA certification or supervise the ongoing practice of BCaBAs or RBTs are required to obtain CEUs in supervision during each recertification cycle in which they provide supervision. Acceptable supervision content must be behavior-analytic in nature and cover supervision as defined in the BACB's Experience Standards (in particular, the "Nature of Supervision" section) and the BACB's Supervisor Training Curriculum Outline (2.0).
Ethics/Supervision CEU Overlap
A CEU may be counted as either an ethics CEU or a supervision CEU, but not both. CEUs acquired from the 8-hour Supervisor Training may count as supervision CEUs only.
Repeating CE Activities
Certificants may not repeat a CEU event or course to obtain additional CEUs because such repetition does not provide new or expanded knowledge or skills.
Unsupervised BCaBAs
An unsupervised BCaBA may want to request Voluntary Inactive Status rather than allow his/her certification to expire.
An unsupervised BCaBA:
Inactive Policy
1. Description: Inactive status is for certificants who need a break from maintaining their certification for a period of time. During the period of inactivity, there are no certificant maintenance requirements (i.e., continuing education, supervision, recertification fees). A certificant may only stay inactive for a maximum of 4 years at a time. Certificants may not again apply for inactive status until at least one full recertification cycle has been completed.
2. Application Requirements: Certificants who are current with their continuing education and supervision requirements (prorated to the month of request) may elect inactive status at any time. Inactive certificants will complete an application and pay a one-time, inactive request fee of $50.
3. Reactivation Requirements: Requires submission of a reactivation application and fee (equivalent to the certificant's recertification fee); the reactivation fee is not required for inactive periods of less than 1 year. For inactive periods of more than 2 years, the certificant must provide proof of 8 CEUs in the 12-month period prior to reactivation. When the individual becomes active again, their certification cycle will resume (e.g., a certificant having 8 months until the end of their cycle at date of beginning inactive status, upon reactivation their cycle will end 8 months from the date of reactivation). Those inactive for a period of 4 years are required to request reactivation or their certification will expire.
4. Restrictions: Individuals who have inactive status will be listed as inactive in the Certificant Registry and will not be verified as having active BACB certification. These individuals may refer to their credential as "BCaBA (Inactive)." An inactive certificant is strictly prohibited from practicing or billing as a BCaBA.
Voluntary Inactive Status Application – BCaBA
Request to Return from Inactive Status – BCBA & BCaBA
Active Duty/Reserve Status Policy
Any individual called to active military duty in the United States armed forces may apply for a temporary reservation of their certification status or eligibility to cover the period during which they are called to active military duty (not to exceed two [2] years). Certificants called to active duty who wish to request reserve status will be prohibited from representing that they are BACB certified (or supervising experience designed to comply with BACB standards) until reinstatement of their certification.
Upon being called to active duty, the individual shall notify the BACB and provide a copy of their official call up notice. The BACB will place the individual on reserve status during the active duty period. Following completion of their active duty, or two (2) years, whichever is earlier, the individual must contact the BACB to update their certification status. When the individual becomes active again, the certification cycle or eligibility window will resume.