Please select one of the following options to Report an Alleged Violation by/based on:
---
General Guidance for Considering a Possible Violation
If you are concerned that you, or someone else, may have violated one or more of the BACB's ethics requirements, you can report your issue of concern to the BACB's Ethics Department. The BACB receives reports of potential ethical violations through two methods: Self-reporting and reporting an alleged violation.
Reporting an Alleged Violation
Reporting an alleged violation of one or more ethics requirements by another individual.
All BACB applicants and certificants, and approved ACE providers, must adhere to the BACB ethics requirements outlined in the Ethics Code for Behavior Analysts and the RBT Ethics Code (2.0). Alleged violations by a BCaBA, BCBA, or BCBA-D applicant or certificant should be reported to the BACB. In some cases, an RBT's alleged violation should be reported to the RBT's Requirements Coordinator or Supervisor, while in other cases the allegation should be reported to the BACB. The following sections offer general considerations about reporting alleged violations, providing supporting documentation, reporting allegations against an RBT versus other applicants and certificants, and how to report.
Affidavit Template for Personal/Witness Statement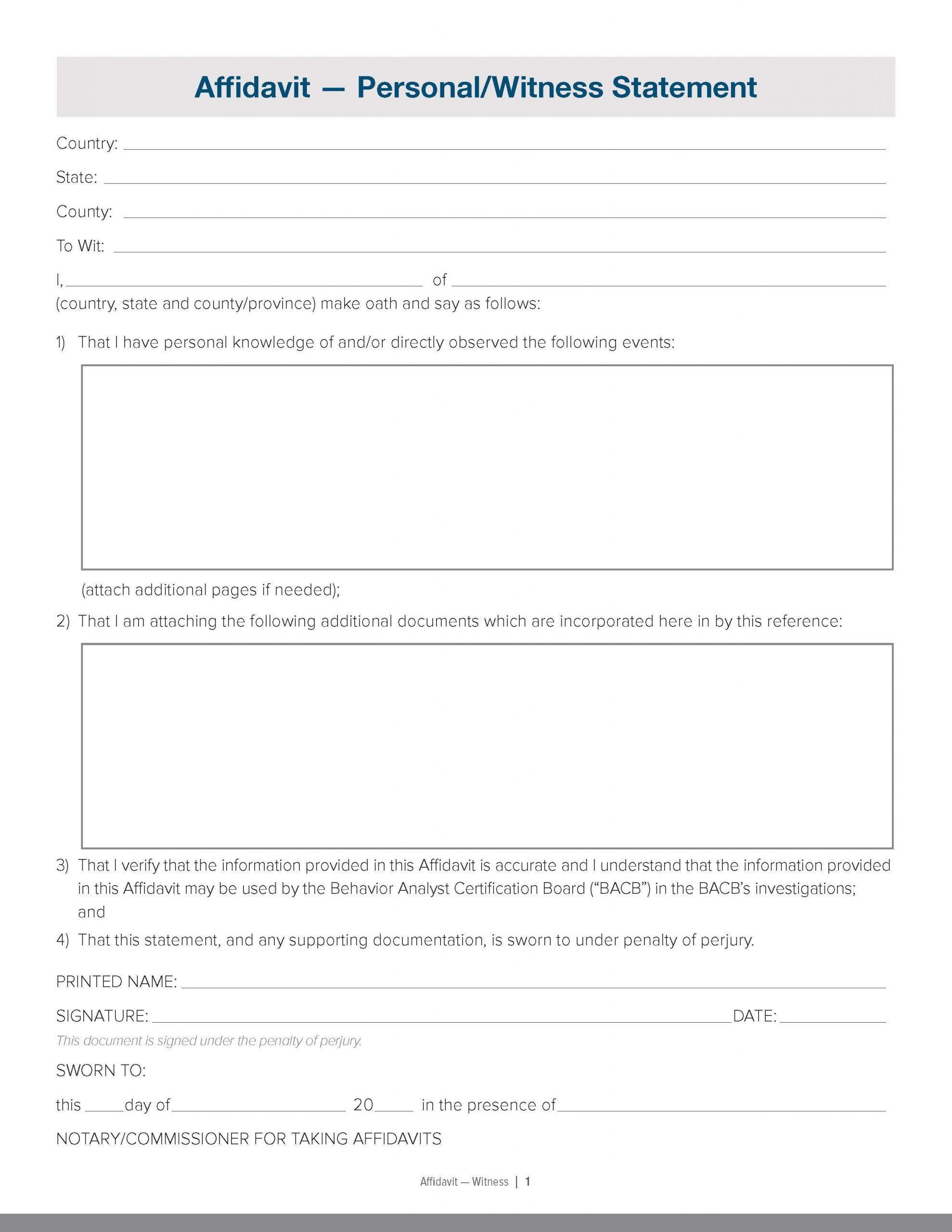 When the documentation you want to submit includes your personal statement, or a witness statement, consider producing a formal affidavit and getting it notarized. Please feel free to use this affidavit template.
Estimated Timeline and Processes Once a Notice of Alleged Violation is Filed
The BACB processes notices based on its Code-Enforcement Procedures. The BACB strives to review notices within a reasonable time and to keep notifiers and subjects apprised of relevant actions. Please review the visual guide below for more information on the estimated timeline and process during each stage.
Important Information about Submitting Notices of Alleged Violation
When completing the appropriate online form, the notifier is asked to give a description of the code violation and provide supporting documentation. If accepted, the notice and all supporting documentation is shared with the subject, who is given an opportunity to respond to the allegations and provide their own supporting documentation. See either the RBT Considerations for Reporting an Alleged Violation or the BCBA & BCaBA Considerations for Reporting an Alleged Violation, as well as the Code-Enforcement Procedures for more information about processes and timelines.
---
The BACB cannot provide legal or ethics advice under any circumstances. There are a number of resources available for anyone seeking guidance related to ethics in the Ethics Resources section. U.S. residents of states that regulate the practice of behavior analysis may contact their state disciplinary boards. For more information about regulation in the U.S., the Association of Professional Behavior Analysts has a resource page on licensure and regulation. Whenever possible, we encourage, but do not require you to consult with a behavior analyst who specializes in the matter before filing a Notice of Alleged Violation. For legal advice, please consult with a licensed attorney in your jurisdiction. For additional guidance on ethics-related matters, please see the Ethics Codes section.