Updated April 2023
Table of Contents
Please double click the link to skip to a section below
---
The website www.bacb.com ("Site") is owned and operated by the Behavior Analyst Certification Board, Inc. ("BACB"). The Site provides information about the BACB's programs and services, including the BACB's certifications (the "Services").
These terms of use ("Terms") constitute a binding agreement between you and the BACB. Please read carefully through all sections of these terms. References to the "BACB" also include the BACB's officers, directors, employees, agents, affiliates, licensees, representatives, and service providers with regard to liability limitations expressed in these terms. Your access to and use of the Site is subject to these terms and all applicable laws, and the BACB reserves the right to terminate your access to the Site if you violate these terms. Clicking on links within the Site or webpages beyond the Site's homepage constitutes your acceptance of and agreement with these terms. If you do not agree with these terms, do not access or otherwise use the Site, any services available through this Site, or any information contained on this Site.
1. Accessing the Site
The BACB reserves the right to withdraw or amend this Site, and any Services or Materials (defined below) the BACB provides on the Site, in the BACB's sole discretion without notice. The BACB will not be liable if for any reason all or any part of the Site is unavailable at any time or for any period. From time to time, in the BACB's sole discretion and without notice, the BACB may restrict access to some parts of the Site or the entire Site to users, including registered account users.
You are responsible for both:
Making all arrangements necessary for you to have access to the Site; and
Ensuring that all persons who access the Site through your Internet connection are aware of these Terms and comply with them.
To access the Site or some of the resources and content it offers, you may be asked to provide certain details or other information such as your login information to access your account. For identity verification purposes, the BACB may also request that you confirm information you provided in your initial or recertification application. It is a condition of your use of the Site that all the information you provide on the Site is correct, current, and complete.
If you choose, or are provided with, a username, password, or any other piece of information as part of the BACB's security procedures, you must treat such information as confidential, and you must not disclose it to any other person or entity. You also acknowledge that your account is personal to you and agree not to provide any other person with access to this Site or portions of it using your username, password, or other security information. You agree to notify the BACB immediately of any unauthorized access to or use of your username or password or any other breach of security. You also agree to ensure that you exit from your account at the end of each session. You should use particular caution when accessing your account from a public or shared computer so that others are not able to view or record your password or other personal information.
The BACB may disable any username, password, or other identifier, whether chosen by you or provided by the BACB, at any time in the BACB's sole discretion for any reason, including if, in the BACB's opinion, you have violated any provision of these Terms.
The BACB cannot guarantee this Site will be available 100% of the time. Interruptions and delays in accessing this Site may occur and the BACB disclaims any liability for damages resulting from such interruptions.
Occasionally, information on this Site may contain technical inaccuracies or typographical errors. The BACB attempts to make this Site's postings as accurate as possible, but the BACB does not warrant the content of this Site.
2. Your Use of the Site
The BACB provides content through the Site that is copyrighted and/or trademarked work of the BACB or the BACB's third-party licensors and vendors (collectively, the "Materials"). Materials may include logos, graphics, videos, images, software, documents, and other content.
You may not use the contents of the Site in any manner or for any purpose that would constitute infringement of the intellectual property rights of the BACB, the BACB's licensors, or the Site's other users.
Subject to these Terms, the BACB hereby grants you a limited, non-commercial, non-exclusive and non-transferable license to use, view, print, display and download the Materials for the sole purpose of viewing them on a standalone personal computer or mobile device. Except for the foregoing license, you have no other rights in the Site or any Materials and you may not modify, edit, copy, reproduce, create derivative works of, reverse engineer, alter, enhance, or in any way exploit any of the Site or Materials in any manner.
If you breach any of these Terms, the above license will terminate automatically and you must immediately destroy any Materials that you downloaded or printed from this Site.
In your use of the site, you may be required to comply with BACB processes for processing an application (e.g., certification, recertification, ACE, appeal). Those processes may require communication and responses from you, and related parties (e.g., university, supervisor), such as:
Submission of information necessary to process your application (e.g., degree, coursework, experience, continuing education)
Payment of application fee(s)
Using BACB-required communication channels (e.g., Contact Us and/or other online forms)
The BACB will typically only communicate with applicants, candidates, and certificants using the email address on record with the BACB. The BACB reserves the right to revise the processes for submission and/or communication in the discretion of the BACB, as will be identified on this website (e.g., application, Certificant Handbook, Newsletter).
3. Permitted Uses
By accessing or using the Site, you agree that:
your use of the Site is subject to and governed by these Terms;
you will only access or use the Site and transact business with the BACB if you are at least 16 years old or a high-school graduate applying for RBT certification;
you will use the Site solely for its Services offered in the normal course of business;
you will always act in accordance with the law, custom, and in good faith;
you will comply with and be bound by these Terms as they appear on the Site each time you access and use the Site;
each use of the Site by you indicates and confirms your agreement to be bound by these Terms; and
you or your representative(s) will only use BACB-approved contact forms and processes on this Site for contacting BACB personnel and that communication from you or your representative(s) regarding a BACB-related matter or decision may not be made outside of the BACB-approved contact forms or processes on this Site, including, but not limited to, contacting personnel at their home, in their community, or at their place of employment (if employed outside of the BACB);
you also agree that you will not engage in threatening, vexatious, harassing, and/or profane communications on this Site with BACB personnel;
if you are sent a cease-and-desist notice from the BACB for any reason (e.g., engaging in harassing communication or unauthorized contact, misrepresentation of BACB-owned intellectual property), you will immediately comply with that cease-and-desist notice; and
these Terms are a legally binding agreement between you and the BACB that will be enforceable against you.
You further agree to not use the Site in any way that:
changes or alters the Site, content or Services that may appear on the Site;
impairs in any way the integrity or operation of the Site;
interferes with or induces a breach of the contractual relationships between the BACB and the BACB's employees;
is in any way unlawful or prohibited, or that is harmful or destructive to anyone or their property;
transmits any advertisements, solicitations, schemes, spam, flooding, or other unsolicited email and commercial communications;
transmits any harmful or disabling computer codes or viruses;
harvests email addresses from the Site;
harvests BACB information and/or certificant information from the Site;
transmits unsolicited email to the Site or to anyone whose email address includes the domain name of the Site;
interferes with the BACB's network services;
attempts to gain unauthorized access to the BACB's network services;
suggests an express or implied affiliation or relationship with the BACB without the BACB's express written consent;
impairs or limits the BACB's ability to operate the Site or any other person's ability to access and use the Site;
unlawfully impersonates or otherwise misrepresents your affiliation with any person or entity;
transmits or uploads violent, obscene, sexually explicit, discriminatory, hateful, threatening, abusive, defamatory, offensive, harassing, or otherwise objectionable content or images;
dilutes or depreciates the BACB or any of the BACB affiliates' name and reputation;
transmits or uploads content or images that infringe upon any third party's intellectual property rights or right to privacy; or
unlawfully transmits or uploads any confidential, proprietary, or trade secret information.
This list of prohibited activities provides examples and is not complete or exclusive. The BACB reserves the right to terminate access to your account and your ability to use this Site (or the Materials) with or without cause and with or without notice, for any reason or no reason, or for any action that the BACB determines is inappropriate or disruptive to this Site or to any other user of this Site and/or Materials. The BACB may report to law enforcement authorities any actions that may be illegal and any reports it receives of such conduct. When legally required or at the BACB's discretion, the BACB will cooperate with law enforcement agencies in any investigation of alleged illegal activity on this Site.
4. Use of the Registry
Use of the BACB Certificant Registry (the "Registry") is subject to agreement and compliance with these Terms. The Registry is available as a resource for consumers, employers, and licensing authorities to verify certification status. You must be at least 16 years old to use the Registry and associated email contacts. The Registry and associated email contacts may not be used for commercial purposes; the BACB has developed a mass-email service for any commercial purposes. Prohibited uses of the Registry include, but are not limited to:
sale of products
information about products
information about educational or professional programs
vulgar or harassing emails
solicitation for employment
data harvesting
creation of a mailing/emailing database
Violators should be reported via the BACB's Contact Us Form. Remedies available to the BACB may include all available legal remedies, fees (including court costs and attorney's fees), and damages. The BACB will take necessary steps to ensure compliance with these Terms but does not guarantee or warrant certificants from emails in violation of these Terms.
The BACB may grant extended registry access to regulators and/or third-party payers; such access, if granted, is restricted to the grantee (non-transferable), and limited to use of the registry only for purposes permitted in the Use of Registry terms.
5. Your Communications to the Site
By forwarding any content or communications to the BACB through the Site or by other electronic means, you thereby grant the BACB a perpetual, royalty-free, worldwide, irrevocable, non exclusive license to use such content and communications in any form for the purposes of providing the Services and any purpose tangentially related to the Services. No compensation will be paid to you with respect to the BACB's or the BACB sublicensees' use of your communications. By providing or submitting content, you represent and warrant that you own or otherwise control all of the rights to your submitted content and communications as described in this section including, without limitation, all the rights necessary for you to submit the content and communications and grant the license above.
6. Official Uses by Regulators
Regulatory agencies may use the Site to provide information about ethics complaints and outcomes. Review and processing of such materials by the BACB is subject to these Terms and Conditions.
7. Electronic Communications
By using the Site and/or the Services, you consent to receiving electronic communications, including electronic notices, from the BACB. These electronic communications may include notices about applicable fees and charges, program requirements, transactional information, and other information concerning or related to the Site and/or Materials. These electronic communications are part of your relationship with the BACB. You agree that any notices, agreements, disclosures, or other communications that the BACB sends you electronically will satisfy any legal communication requirements, including that such communications be in writing.
8. Monitoring and Enforcement; Termination
The BACB has the right to:
take appropriate legal action, including without limitation, referral to law enforcement, for any illegal or unauthorized use of the Site; and
terminate or suspend your access to all or part of the Site for any reason, including without limitation, any violation of these Terms.
Without limiting the foregoing, the BACB has the right to cooperate fully with any law enforcement authorities or court order requesting or directing the BACB to disclose the identity or other information of anyone posting any materials on or through the Site. You waive and hold harmless the BACB from any claims resulting from any action taken by any of the foregoing parties during, or taken as a consequence of investigations by such parties or law enforcement authorities.
The BACB does not assume any liability for any action or inaction regarding transmissions, communications, or content provided by any user or third party. The BACB does not assume any liability or responsibility to anyone for performance or nonperformance of the activities described in this section.
9. Reliance on Information Posted
The information presented on or through the Site is made available solely for general informational purposes. The BACB does not warrant the accuracy, completeness, or usefulness of this information. Use of this Site and any reliance you place on such information is strictly at your own risk. The BACB disclaims all liability and responsibility arising from any reliance placed on such materials by you or any other visitor to the Site, or by anyone who may be informed of any of its contents.
This Site may include content provided by third parties, including materials provided by other users, social media access, and third-party licensors, syndicators, aggregators, and/or reporting services. All statements and/or opinions expressed in these materials, and all articles and responses to questions and other content, other than the content provided by the BACB, are solely the opinions and the responsibility of the person or entity providing those materials. These materials do not necessarily reflect the opinion of BACB. The BACB is not responsible, or liable to you or any third party, for the content or accuracy of any materials provided by any third parties.
10. Linking Policy
The BACB welcomes links to its website in accordance with the following:
Links to the Site
Links should not be misleading. Hyperlinked text should be accurate and appropriate. Content from this Site may not be framed or displayed using any kind of framing or source technology. The BACB.com Emblem is the only image that may be used to link to the Site.
Links from the Site
This Site may link to other websites that are not sites controlled or operated by the BACB (collectively, "Third-Party Sites"). Certain areas of the Site may allow you to interact and/or conduct transactions with such Third-Party Sites, and, if applicable, allow you to configure your privacy settings in your Third-Party Site account to permit your activities on this Site to be shared with your contacts in your Third-Party Site account and, in certain situations, you may be transferred to a Third-Party Site through a link but it may appear that you are still on this Site. In any case, you acknowledge and agree that the Third-Party Sites may have different privacy policies and terms and conditions and/or user guides and business practices than the BACB. You further acknowledge and agree that your use of such Third-Party Sites is governed by the respective Third-Party Site privacy policy and terms and conditions and/or user guides. The BACB provides links to the Third-Party Sites to you as a convenience, and the BACB does not verify, make any representations or take responsibility for such Third-Party Sites, including, without limitation, the truthfulness, accuracy, quality or completeness of the content, services, links displayed and/or any other activities conducted on or through such Third-Party Sites. You agree that the BACB will not, under any circumstances, be responsible or liable, directly or indirectly, for any goods, services, information, resources and/or content available on or through any Third-Party Sites and/or third-party dealings or communications, or for any harm related thereto, or for any damages or loss caused or alleged to be caused by or in connection with your use or reliance on the content or business practices of any third party. Any reference on the site to any product, service, publication, institution, organization of any third-party entity or individual does not constitute or imply the BACB endorsement or recommendation.
Removal of Links
You must promptly remove any links to the Site upon the request of the BACB. You may request the removal of a link to your website from the Site by contacting us. Unless there is a legal right to have the link removed, such removal will remain in the BACB's sole discretion.
11. Trademark and Copyright
Content on this Site is Copyright © 1998-2022 the Behavior Analyst Certification Board, Inc., (BACB), ALL RIGHTS RESERVED. The content of this Site is subject to U.S. and international copyright, trademark, and intellectual property laws. Unauthorized reproduction, copying, or transmission in any medium is strictly prohibited.
The logos, service marks, certification marks and trademarks "Behavior Analyst Certification Board, Inc.®," "BACB®," "Board Certified Behavior Analyst®," "BCBA®," "BCBA-D®" and "Board Certified Behavior Analyst-Doctoral®," "Board Certified Assistant Behavior Analyst®," "BCaBA®," "Registered Behavior Technician®", and ("RBT®") are owned by the Behavior Analyst Certification Board®. Unauthorized use, misrepresentation, or references to these marks, the BACB's certification programs and/or BACB standards is strictly prohibited. Misrepresentation, false characterization, or any attempted fabrication of certification status, ACE approval, or any other BACB offering will be subject to appropriate action, including, but not limited to (a) sanction by the BACB; (b) cease-and-desist action; (c) public listing on the Falsified Credentials and/or Misrepresentation webpage of your identifying information (name, aliases, location); and (d) legal remedies, court costs, damages, and attorney's fees.
All other trademarks, names, and logos on this Site are the property of their respective owners. Unless otherwise specified in these Terms, all information and content appearing on this Site, including documents, services, site design, text, graphics, logos, images and icons, as well as the arrangement thereof, are the sole property of BACB. All rights not expressly granted herein are reserved. Except as otherwise required or limited by applicable law, any reproduction, distribution, modification, retransmission, or publication of any copyrighted material is strictly prohibited without the express written consent of the BACB. Please see Section 13 below and the Guidelines for Use of BACB Intellectual Property web page for more information.
12. Examination Content
BACB examinations, item bank, test questions, and related materials are secure trade secrets owned by the BACB. In addition to the Application Processing Agreement and the Examination Terms and Conditions (available in the BCBA, BCaBA, and RBT Handbooks), you agree that should you misappropriate, use, or disseminate BACB secure trade secrets (e.g., examination forms, test questions) whether intentionally or not, you will be responsible for the cost of replacement of the materials, including any legal fees or court costs incurred to enforce this provision. With regards to the stipulated damages herein, the minimum cost to replacing a standard examination form is $250,000 per form plus legal fees and expenses.
13. Requests to Use BACB Intellectual Property
If you would like to request permission to use copyrighted materials, logos, service marks, certification marks, or trademarks owned by the BACB, please complete the Copyright/Trademark Permission Request Form below. If you are granted permission to use copyrighted materials, logos, service marks, certification marks, or trademarks owned by the BACB, you must use the ® and ™ insignias with the first instance of each of the following:
Behavior Analyst Certification Board® • BACB®
Board Certified Behavior Analyst® • BCBA®
Board Certified Behavior Analyst-Doctoral® • BCBA-D®
Board Certified Assistant Behavior Analyst® • BCaBA®
Registered Behavior Technician® • RBT®
14. BACB Logo Use
The BACB does not permit the use of its corporate logo under any circumstances. However, the BACB is pleased to offer the following BACB.com emblem as an alternative: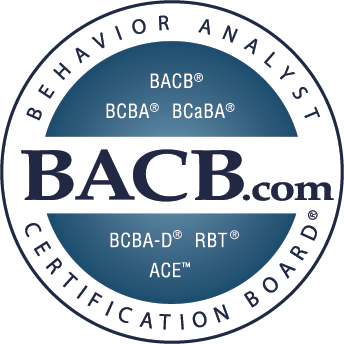 The following guidelines will help you identify how this emblem may be used:
You may use the emblem on your company website, blog, and/or social media site related to applied behavior analysis. Please ensure the emblem is not the identifier for your site or the central focal point of your site (see examples).
You are welcome and encouraged to use the emblem to reference the Site. You may link the emblem to the BACB homepage (www.bacb.com), but not to any other site.
While you may alter the emblem's size, its color, font, shape, wording, registration, and trademark insignias must remain in their original forms.
15. Media Resources
Use of BACB media resources (the "Media Resources") is subject to the these Terms. Media Resources include, but are not limited to, BACB owned, developed, or commissioned:
podcasts
blogs
social media content
resource documents
videos
The BACB disclaims any liability for damages or fees (direct, indirect, incidental, consequential) arising out of your use of or reliance upon any Media Resource. Media Resources may not be reproduced, copied, displayed, edited, retransmitted, or shared in any medium for commercial use or sale without the BACB's express written consent. Media Resources are protected under U.S. and international copyright and trademark laws.
Media Resources may only be used in noncommercial professional content (e.g., journals, podcasts, educational lectures, conference presentations) subject to Fair Use limitations and only with proper citation of the BACB as the source and owner of the content. Use of a Media Resource is at the user's own risk.
16. Acceptable Signatures
The BACB accepts electronic signatures for applications and forms, whether submitted electronically or by mail. An electronic signature is "an electronic sound, symbol, or process, attached to or logically associated with a contract or other record and executed or adopted by a person with the intent to sign the record" (15 U.S.C. § 7006 [2000]). Simply stated, an electronic signature is an electronic expression indicating a signee's intent to sign a document. By contrast, a digital signature is a specific kind of electronic signature, which requires authentication of a signee's identity.
Although it is preferred that documents are digitally signed using a third-party electronic signature service (e.g., Adobe Sign, DocuSign, HelloSign), the BACB will accept any type of electronic signature (e.g., Adobe Fill & Sign, JPEG of a signature) provided the document is signed by the appropriate party with the intent of signing the document.
The BACB also accepts handwritten signatures on scanned documents, unless the document states that an original signed copy is needed. Alterations on handwritten documents (e.g., white-outs, strike-throughs) must be initialed by both parties.
17. Federal and State Laws
This Site is operated from the United States. If you access this site from anywhere inside or outside the United States, you consent to your personal data being collected by us. When using this Site, or when using any content provided by the BACB, you must obey all applicable U.S. federal, state, and local laws.
18. Disclaimer of Warranties
To the fullest extent provided by law and except as otherwise provided herein or elsewhere on this site, the information and services offered on or through this site and any referenced Third-Party Site are provided "as is" and without warranties of any kind, either express or implied. Any third-party goods or service providers are referenced as a convenience to you and listing does not constitute sponsorship, affiliation, partnership, or endorsement. To the fullest extent allowed by law, the BACB disclaims all express and implied warranties, including but not limited to implied warranty of merchantability, fitness for a particular purpose, title, and non-infringement. Use of this Site is at your own risk, without any warranty or guarantee. The BACB shall not be held liable for your use of the Site contents and any errors or omissions in the Materials.
To the fullest extent allowed by law, the BACB does not warrant or make any representations regarding the use or the results of the use of this site, content, or other posted materials on this site in terms of its correctness, accuracy, timeliness, reliability or otherwise.
By providing the services on this site, the BACB does not in any way promise that the services will remain available to you. The BACB is entitled to terminate all or part of any of this site at any time, in the BACB's sole discretion without notice to you.
19. Limitation of Liability
The liability of the BACB and its officers, directors, employees, agents, affiliates, licensees, representatives, and service providers with respect to any and all claims arising out of your use of this site, the materials, the content, or services obtained through this site, whether based on warranty, contract, negligence, strict liability or otherwise, shall not exceed, in the aggregate, one hundred dollars ($100).
In no event will the BACB be liable to you or any party for any direct, indirect, special, or other consequential damages for any use of this site, or on any other hyperlinked website, including, without limitation, any lost profits, business interruption, loss of programs or other data or otherwise, even if the BACB is expressly advised of the possibility of such damages.
20. Indemnification
You agree to indemnify, defend, and hold harmless the BACB and its officers, directors, employees, agents, affiliates, licensees, representatives and service providers, for any and all claims, demands, actions, liability, fines, penalties and expenses that may arise from any of your acts through the use of this Site including, but not limited to (i) eligibility determinations; (ii) certification grants, denials, or other actions; (iii) ACE determinations or actions; (iv) renewal, recertification, or reinstatement actions; (v) the examination experience; (vi) conduct of a background check; (vii) issuance of a code-enforcement decision; (viii) publication or third-party disclosure in accordance with the Privacy Policy and Application Processing Agreement; and/or (ix) any other action that breaches these Terms.
In the event of an official use of the Registry or collaboration with regulatory agencies on ethics-related matters, the regulatory agency shall grant the BACB the same immunity enjoyed by the regulatory agency, to the greatest extent permitted by law.
21. Copyright Claims
If you believe that you may have a copyright claim regarding this Site's content, contact us with the following information:
an electronic or physical signature of the person authorized to act on behalf of the purported owner of the copyright interest;
description of the copyrighted work that you claim has been infringed;
the location on this Site of the material that you claim is infringing;
your address, telephone number, and email address;
a statement that your claim of infringement is based on a good faith belief; and
a statement made under penalty of perjury that the information you have provided is accurate and that you are the copyright owner or authorized to act on the copyright owner's behalf.
22. Miscellaneous Provisions
Arbitration
As may be mutually agreed upon by you and the BACB, any disputes between you and the BACB may be resolved by binding, individual arbitration in Colorado with an arbitrator selected by mutual agreement of the parties. This dispute resolution provision will be governed by the Federal Arbitration Act and not by any state law concerning arbitration.
Waiver of Right to Jury; Class Action Waiver
All disputes not subject to agreed arbitration will be tried to the court, rather than to a jury. To the extent allowed by law, you agree to irrevocably waive any right you may have to a trial by jury or to serve as a class representative, as a private attorney general, or in any other representative capacity, or to participate as a member of a class of claimants, in any lawsuit, class arbitration, consolidation of individual arbitrations, or other proceeding filed against the BACB and its officers, directors, employees, agents, affiliates, licensees, representatives and service providers.
Governing Law and Venue
These Terms shall be governed by and construed in accordance with the laws of the State of Colorado, excluding its conflicts of law rules, and the United States of America. Unless you and the BACB agree to arbitration, you agree that any dispute arising from or relating to the subject matter of these Terms shall be governed by the exclusive jurisdiction and venue of the state and Federal courts of Denver, Colorado.
Severability
If any term or provision in these Terms is found to be void, against public policy, or unenforceable by a court of competent jurisdiction and such finding or order becomes final with all appeals exhausted, then the offending provision shall be deemed modified to the extent necessary to make it valid and enforceable. If the offending provision cannot be so modified, then the same shall be deemed stricken from these Terms in its entirety and the remainder of these Terms shall survive with the said offending provision eliminated.
Updates and Privacy Policy
The BACB may make changes to the content available on this Site at any time. The BACB may change, update, add, or remove provisions of these Terms at any time by posting the updated Terms on this Site. By using this Site after the BACB has updated the Terms, you are agreeing to the then-current Terms.
To learn more about how the BACB uses and protects the privacy of users of this Site, please review the BACB Privacy Policy.
Headings
Condition and section headings are for convenience of reference only and shall not affect the interpretation of these Terms.
23. How to Contact Us
If you have any questions or comments about these Terms or this Site, please contact us.