New Podcast: Future Changes to BCBA Certification Requirements
Please enjoy our newest podcast episode, in which CEO Dr. Jim Carr and Deputy CEO Dr. Melissa Nosik break down the future BCBA certification requirements changes announced in the March 2022 BACB Newsletter.
LISTEN NOW
---
New Podcast: Introducing the 2025 BCBA and BCaBA Test Content Outlines
We are excited to share our first podcast episode of the year, which covers the newly developed 2025 BCBA and BCaBA test content outlines (TCOs). Listen in to learn about the TCO-development process, future examinations, and more—and stay tuned for a follow-up episode, coming soon.
LISTEN NOW
---
The 2022 Michael Hemingway Behavior Analysis Award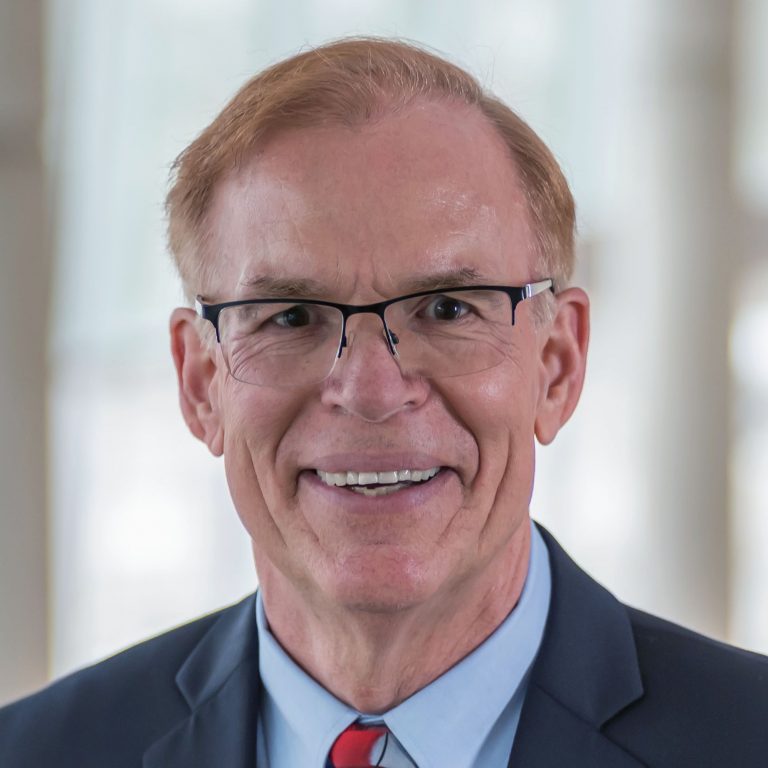 Each year, the BACB honors an individual with the Michael Hemingway Behavior Analysis Award to commemorate the life and contributions of Michael Hemingway, who played a central role in the development of behavior analyst certification in Florida before serving as a founding director of the BACB. Michael's commitments to the profession of applied behavior analysis and to increasing access to services are reflected in the behavior of the individual who receives this award.
We are pleased to announce that the 2022 recipient of the Michael Hemingway Behavior Analysis Award is Wayne W. Fisher, PhD, BCBA-D. Dr. Fisher is currently the Henry Rutgers Endowed Professor of Pediatrics in the Robert Wood Johnson Medical School, a core faculty member of the Brain Health Institute, and the director of the Rutgers University Center for Autism Research, Education, and Services, all at Rutgers University. Dr. Fisher's professional contributions fulfill both criteria for this award: helping increase access to quality ABA services and developing sound public policy in behavior analysis. In addition to his record as one of the discipline's top applied researchers, Dr. Fisher has overseen and/or developed 4 state-of-the-art clinical research programs for autism and developmental disabilities (at Kennedy Krieger Institute, Marcus Autism Center, Munroe-Meyer Institute, and Rutgers University); served as editor-in-chief of Journal of Applied Behavior Analysis; helped improve access to ABA services through legislative activity in Nebraska; and served as a principal author of the current CPT® billing codes used nationally in applied behavior analysis. We are thankful to Dr. Fisher for his many distinguished contributions, which have greatly benefitted our science, our practice, and most importantly, the consumers of ABA services.
---
March 2022 Newsletter
We are excited to share the publication of the March 2022 BACB Newsletter. This issue covers future changes to BCBA and BCaBA certification eligibility and maintenance requirements. Read on for details.
---
New Video: Reporting Alleged Ethics Violations Based on Publicly Available Documentation
We are excited to share our new video about the Publicly Documented Alleged Violation reporting option.
Check it out
for details on reporting requirements and considerations, the submission process, and more.
---
US Employment Demand for Behavior Analysts: 2010–2021
The BACB used the Labor Insight™ database from Burning Glass Technologies® to assess US employment demand for behavior analysts from 2010–2021 and demand by state from the past 12 months. The report reveals strong and increasing demand for behavior analysts throughout the US.
VIEW THE REPORT
---
February 2022 Newsletter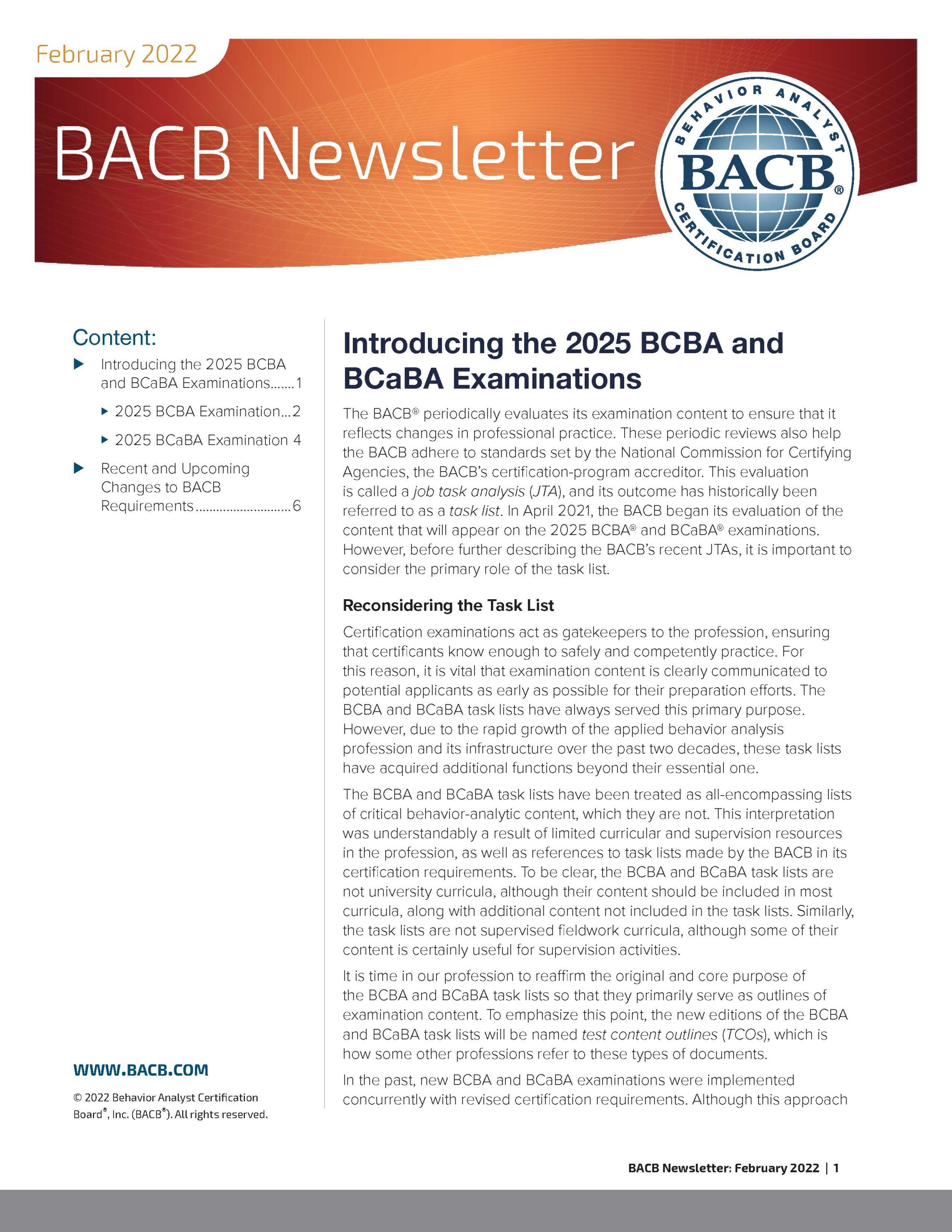 We are pleased to announce the publication of the February 2022 BACB Newsletter. This issue introduces upcoming changes to BCBA and BCaBA examination content that will be implemented in January 2025.
---
BACB Board of Directors Election Results
We are pleased to announce the results of our recent Board of Directors election: Breanne Hartley, BCBA-D, was elected to serve a three-year term on the Board. We offer our congratulations to Dr. Hartley and extend our gratitude to the candidates for running. Thank you to all of the certificants who participated in this important election.
We also wish to congratulate and thank Marlene Brown, BCBA, and James Moore, BCBA-D, who were both appointed by the Board to serve a second term.
---
BACB Data and Developments in 2021
We are pleased to share the
BACB Data and Developments in 2021
infographic, which details the most exciting changes and data points from this past year. Take a look to see just how much the practice of ABA is growing—thanks to you.
---
The 2022 Transition
The time has finally come! On January 1, all 2022 requirements and changes went into effect. Please review the following changes to your certification or the certification you are working toward:
Self-Reporting Updates
The updated self-reporting process is now available, including a streamlined form, revised handbook section, and instructions.
SELF-REPORTING SECTION
---