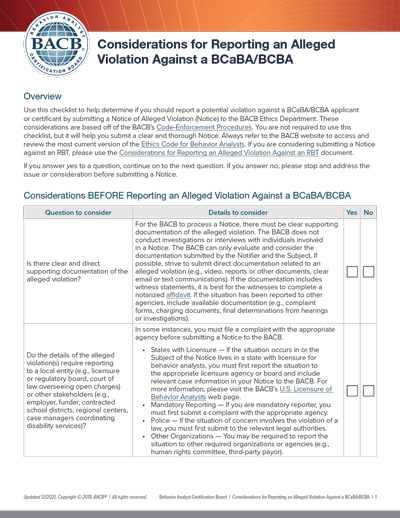 Before submitting a Notice of Alleged Violation against a BCaBA, BCBA, or BCBA-D applicant or certificant, review the information in the Considerations for Reporting an Alleged Violation and the Ethics Code for Behavior Analysts.
When completing the Notice of Alleged Violation, you will be required to enter information about the subject, the alleged violation, and supporting documentation. If the notice is accepted, the BACB gives the subject due process by providing a copy of the notice and supporting documentation. The subject is also given an opportunity to respond and submit their own supporting documentation.
---
The BACB cannot provide legal or ethics advice under any circumstances. There are a number of resources available for anyone seeking guidance related to ethics in the Ethics Resources section. U.S. residents of states that regulate the practice of behavior analysis may contact their state disciplinary boards. For more information about regulation in the U.S., the Association of Professional Behavior Analysts has a resource page on licensure and regulation. Whenever possible, we encourage, but do not require you to consult with a behavior analyst who specializes in the matter before filing a Notice of Alleged Violation. For legal advice, please consult with a licensed attorney in your jurisdiction. For additional guidance on ethics-related matters, please see the Ethics Codes section.