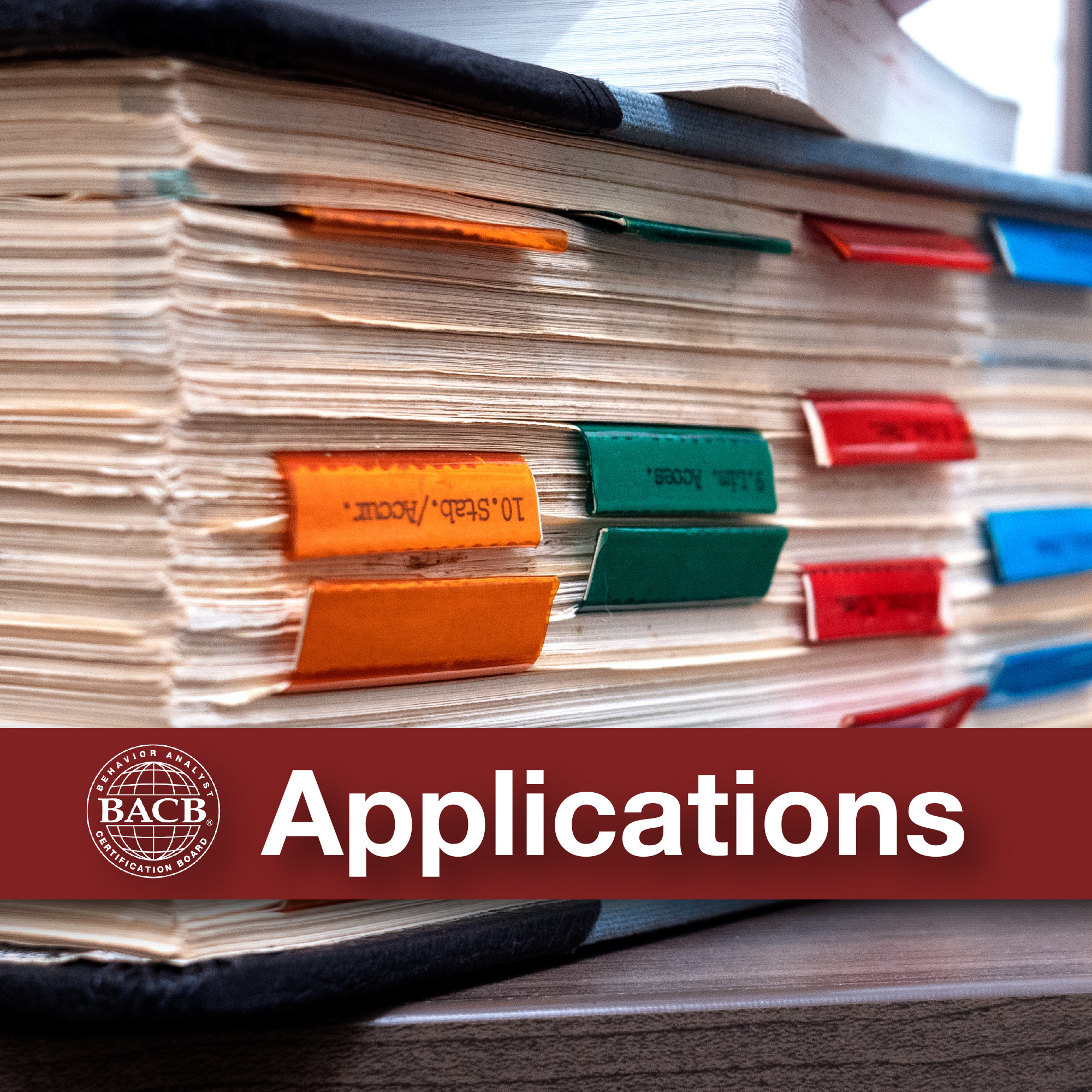 Have you ever wanted to know what goes on behind the scenes after you submit your BCBA or BCaBA application? Now you can! For your convenience, we've pulled together a quick overview of the BCBA and BCaBA application life cycle. In this detailed look at the beginning, middle, and end of the application process, you'll learn more about what to expect once you apply for certification.
In the Beginning: It's All About Documentation
Having complete and accurate documentation is one of the most important parts of the application process. However, due to the large amount of documentation that applicants are required to provide, it can be challenging to keep track of everything once it's submitted—and that's where we come in. Here's an example of what the documentation stage might look like:
First, we receive your documentation. This may happen in several ways. For example, your university might send us your transcript directly, or they might use a third-party transcript service to send it electronically. If your VCS Coordinator completes a VCS Coordinator Coursework Attestation form, they'll send it to us directly as well. We may also receive documents, such as your Final Fieldwork Verification Form, via the Contact Us Form.
Next, we retrieve the documents that come from third parties (e.g., third-party transcript service, your university) and upload them to your individual record on the date that they were received.
At this point, we send you a confirmation email, and you can rest easy knowing that your documentation is in good hands. It's important to note that if you submit documentation via the Contact Us Form, you'll automatically receive a confirmation email, but if your university or a third-party transcript service submits documentation on your behalf, we'll send you an additional confirmation email. Keep in mind that your university may send you a confirmation email, but this only indicates that your transcript has been sent—not received.
Finally, we add your documentation to a queue to be reviewed.
Helpful Reminder: Take your time when preparing for your application, and try not to submit it before it's completely ready. For example, you might consider requesting a copy of your transcript to confirm that your degree has been conferred and that all of your behavior-analytic coursework is listed and includes passing grades. If you have your ducks in a row from the very beginning, you can potentially avoid application processing delays.
Next Up: The Waiting Game
After submitting documentation for something important, we often start to ask ourselves questions: Was my information received? How long will it take to hear back? Should I submit again just to be sure? We've all been there, and we want you to know that when it comes to processing your application, we've got you covered. Here's a quick glance at what the review process involves on our end:
As we mentioned earlier, once we get your documents, we place them in a queue and review them in the order that they were received.
When your application is up for review, we take a look at all of the documents that have been uploaded to your individual record and provide feedback if any documentation is missing or needs to be corrected. This is why it's so important to have all of your application materials ready to go before you submit your documentation; if we need to provide feedback, you may encounter delays.
As you wait to hear back from us, you can visit the Customer Service Updates web page. This page provides status updates on application processing times, and we update it daily. Please note that it may take up to 45 days from when we receive all of the documentation needed to complete our review.
Helpful Reminder: As tempting as it may be, please don't submit your documentation multiple times, as this will cause application processing delays. If any additional information is needed, we'll be sure to let you know.
Last but Not Least: The Determination
It feels great to get two thumbs-up for an approved application, and we love giving them! That said, there are a few different outcomes that can occur at this point in the process. Here's some additional information about what the determination phase includes:
If we approve your application based on the documentation we received, we'll send an examination authorization to Pearson VUE. Once your information is in their system, we'll send you an examination authorization email with information about how to schedule and take the examination. You can learn more about scheduling an appointment by visiting our Examination Information web page.
If we don't approve your application after the initial review, we'll provide you with a determination via email. The determination will include a list of documents that are still needed as well as documents that have already been reviewed and approved. If you receive a determination indicating that you must provide additional documents, the documents will go through the same review cycle as before once they've been submitted. Bear in mind that you only have 90 days from the date you make an application payment to submit all of the required documentation before your application expires.
If you disagree with the application determination and believe that your application was denied in error, you may review our appeals policies and procedures to determine whether a second, independent review of your application should be initiated.
For assistance with any additional questions you might have about your application, please complete the Contact Us Form.
Helpful Reminder: If you'd like additional guidance along the way, check out our BCBA and BCaBA Applicants: 5 Tips for a Smoother Application Process blog.
Thanks for letting us share this bit of insight into how the application process works. We hope that you feel better acquainted with the life cycle of BCBA and BCaBA applications and can have peace of mind knowing that once you apply for certification, we're here to help make the process as smooth as possible.