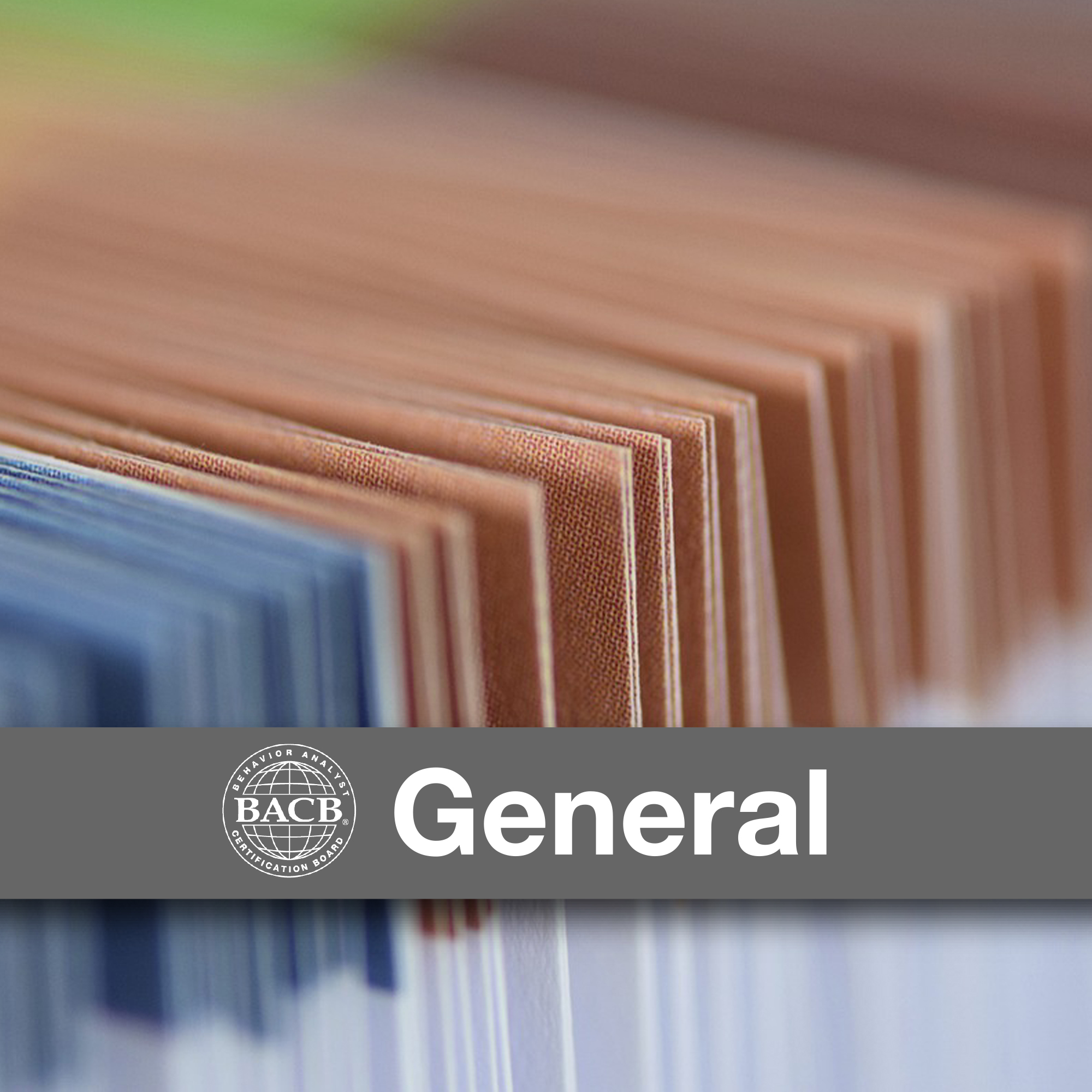 Nearly half of all recently certified BCBAs and BCaBAs were RBTs when they applied. What does that tell us? For many, becoming an RBT is the first step on a journey toward BCBA or BCaBA certification. Knowing this, we'd like to answer some frequently asked questions about accruing supervised fieldwork for BCBA or BCaBA certification as an RBT.
Before we get started, let's define supervised fieldwork.
It's almost (but not quite) self-explanatory. Supervised fieldwork is our term for the time you spend providing applied behavior analysis (ABA) services under a qualified supervisor toward BCBA or BCaBA certification. It's one of our most important eligibility requirements because it helps trainees develop the skills they need to demonstrate competence in ABA and work effectively with clients, their support systems, and others. Now, we can jump right in.

1. Can I accrue supervised fieldwork while I'm an RBT?
A. Yes, but only if you meet the maintenance requirements for your RBT certification, including ongoing supervision, as well as the supervised fieldwork requirements for BCBA or BCaBA certification (see the Supervised Fieldwork Requirements section of the BCBA or BCaBA Handbook).
---
2. Are the requirements for ongoing RBT supervision and supervised fieldwork the same?
A. No. The minimum requirements per supervisory period differ as shown in the following table:
Requirements
RBT Supervision
Supervised Fieldwork
Concentrated Supervised Fieldwork
Percentage of hours supervised per month
5%
5%
10%
Real-time, face-to-face contacts per month
2
4
6
Individual supervision per month
1 meeting
50% of supervised hours
Observations of trainee/supervisee providing services with client per month
1
---
3. Can I count the hours I spend delivering behavior-analytic services as an RBT toward supervised fieldwork?
A. In the right circumstances, yes. The thing to remember is that most of the time, RBTs take part in restricted activities. Here's a refresher on the supervised fieldwork activities:
Restricted activities are those involved in the delivery of behavior-analytic services to a client. They should make up no more than 40% of your fieldwork hours for BCBA certification and no more than 60% of your fieldwork hours for BCaBA certification. Examples include implementing therapeutic and instructional procedures directly with a client.
Unrestricted activities are those that support and inform the delivery of behavior-analytic services. These activities are commonly completed by BCBAs and BCaBAs. Examples include conducting behavior assessments, writing and revising behavior programs, analyzing data, and training caregivers and staff.
To get the most out of supervised fieldwork and properly balance restricted and unrestricted activities, talk to your supervisor about your professional goals. This opens the door for you to discuss the experiences and hours you'll need, why those experiences are important, and how you'll manage your responsibilities as an RBT and a BCBA or BCaBA trainee.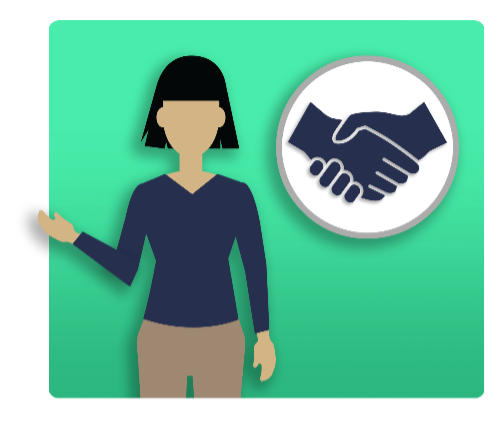 An important thing to consider is that some of the hours you accrue as an RBT will not count toward supervised fieldwork, and that's okay! Fieldwork isn't just about checking boxes—it's about making strides in your professional development. Your activities as an RBT are designed to help your clients progress toward their goals, and fieldwork is designed to teach you the skills necessary to work as a behavior analyst or assistant behavior analyst in the future.
---
4. Can I count the hours I spend receiving supervision as an RBT toward supervised fieldwork?
A. Yes, but probably not all of them. Why? The activities and topics that come up during a supervision meeting about your fieldwork are likely different and more advanced than those that come up during your ongoing supervision as an RBT. This is another great time to collaborate with your supervisor. Together, you can choose activities and topics that will also meet the supervised fieldwork requirements (see also Question 3).
If you take anything away from this answer, let it be that you and your supervisor are a team—and you should make the most of that. When you're a BCBA or BCaBA, you'll have more responsibilities and work more independently. So, while you still have a professional safety net, take the time to experience new things and develop your skills. That way, you'll be fully prepared for whatever lies ahead.
Remember: While working as an RBT, it may be tempting to count as many hours as possible toward BCBA or BCaBA certification. However, the true purpose of fieldwork is to thoroughly prepare you for your new role, which will come from acquiring hours in different settings with different supervisors. In other words, choose quality over quantity. After all, you only get your foundational training once in your life.
---
5. Can I document supervised fieldwork in the same way that I document ongoing supervision as an RBT?
A. No. Although your documents and documentation systems might be similar, they can't be the same because the requirements differ. For example, you need to keep a summary of each supervision activity for supervised fieldwork, but you don't need to keep one for ongoing RBT supervision.
Once you're ready to accrue supervised fieldwork, talk to your supervisor about proper documentation. Then, before each supervision session, identify the topics and activities they'll cover so that you know which set of documentation requirements to meet.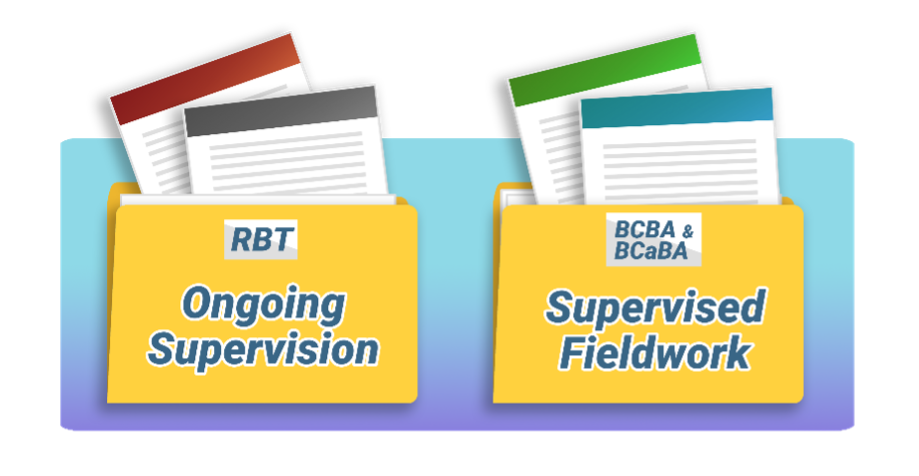 For details, review the Ongoing Supervision section of the RBT Handbook and the Supervised Fieldwork Requirements section of the BCBA or BCaBA Handbook. The Documenting Fieldwork: Helpful Answers to Your FAQs blog post may also be a valuable tool.
---
6. Can my RBT Supervisor also provide supervised fieldwork?
A. Yes, but only if your supervisor meets both sets of requirements. To ensure that all trainees get the instruction and support they need, supervisors must meet specialized requirements as shown in the Additional Requirements by Role table in the BCBA Handbook.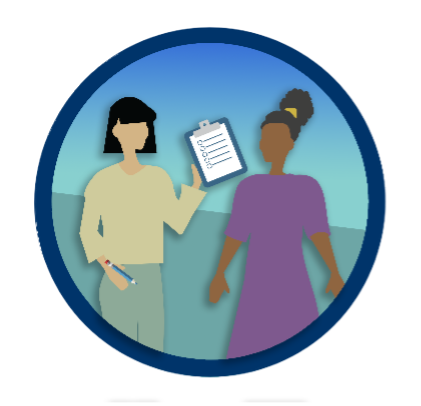 The easiest way to get an answer is to ask your supervisor if they meet the requirements to supervise fieldwork. You can also verify their eligibility by searching their name in the BACB Certificant Registry, but remember—especially as an aspiring BCBA or BCaBA, you want a supervisor who can give you the best information and learning opportunities possible. So, even if they're qualified on paper, make sure they're the right fit for your professional-development goals.
Lastly, don't forget: For supervised fieldwork, you must have a supervision contract in place with each supervisor. The good news is that they'll help you develop a contract once you agree to work with them. Before then, check out this Sample Supervision Contract for reference.
---
7. Which ethics code do I follow?
A. As you already know, RBTs must be familiar with and adhere to the RBT Ethics Code (2.0). You'll also become familiar with the Ethics Code for Behavior Analysts during your coursework, and you must comply with it during supervised fieldwork. Again, we suggest working with your supervisor to best understand what's expected of you. They'll help you navigate which code is applicable to the role you're in at any given time.
---
Do you feel more prepared to take this next step in your career? We hope so! We can't overstate how important supervised fieldwork is for gaining the necessary skills you'll need as a BCBA or BCaBA, so make the most of it. Enjoy this time of guided practice and close supervision before your role changes from behavior technician to behavior analyst or assistant behavior analyst.
If you don't know where to go from here, check out these resources to get started: